---
Montserrat

Montserrat is an island of about 100 sq km, 15 minutes' flight (or about one hour by ferry) from Antigua. It is a British Overseas Territory, but they do use the EC$ as their currency. Much of the population fled the island (to Antigua, in part) when the Soufriere volcano erupted in July 1995; about 6,000 people lived on the island when I was there in 1999.


Panoramic view (180°) of central Montserrat. Download full size (2509x420)
Coming from Antigua, I was especially happy about the abundance of fresh water and the lush vegetation. Compared to Montserrat, Antigua is a really really barren place!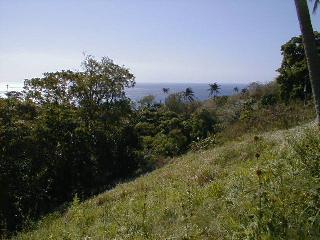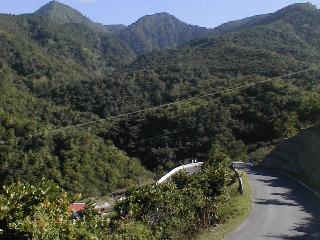 Landscape on Montserrat. Download Full size left (640x480), right (960x1280).
Since the eruption of the volcano, the centre of the island life has moved from the former capital, Plymouth, to Little Bay in the north. Temporary Governemnt Headquerters have been erected there.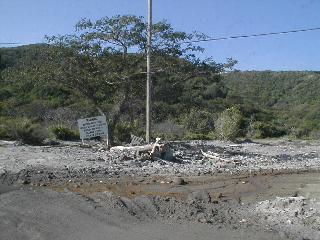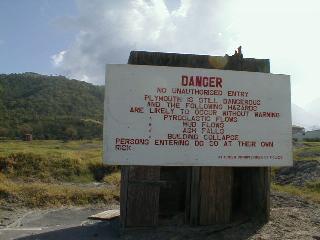 Driving towards Plymouth in the "Daytime Entry Zone". Download Full size left (1280x960), right (640x480).
I also had the opportunity to visit Montserrat by private plane (the airport is closed but you can fly around the island), and the full scale of the damage caused by the volcano is really only visible from the air.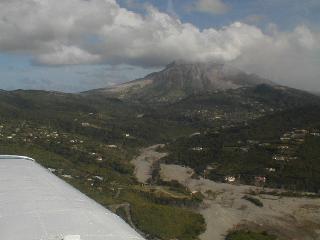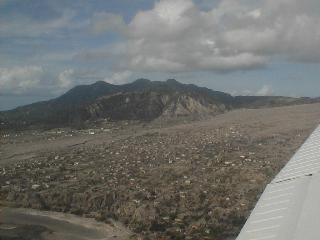 Plymouth and surrounding area from the air. Download full size left (1280x960), right (1280x960).
Tips for Travellers
If you can spare a day or two, the Montserrat tour is highly recommended! You will have to spend about EC$ 80 for the ferry trip (return), another EC$ 50 "departure tax" (since you are leaving for a foreign country!), and you will probably want a taxi on Montserrat to take you to a few places - that's going to be another EC$ 50-100.

The ferry - the M.V. Opale Express when I was there - leaves Antigua at the port in St. John's and goes to Little Bay. When you come back to Antigua, you will of course have to clear customs and immigration, so expect a few delays there... but many people from Montserrat do the trip every week for shopping, so it can't be too bad.


Panoramic view of Little Bay in the North, and government buildings on the left. Download full size (1803x451)
You can also go by helicopter which is supposedly not much more expensive than the ferry (in the region of EC$ 120 return), but I haven't tried that.
Tourist accommodation is available on Montserrat, so if you want to stay a bit longer, you'll no doubt find a nice and reasonably priced B&B or guest house. My impression was that the people on Montserrat are extremely welcoming.
There is really only one useful map of Montserrat, and it should be available at the Map Shop on Antigua. I remember that I saw the map for about half the price (in the region of EC$ 12) on Montserrat itself but that's life - if you buy it on Antigua, customs gets involved ;-)
Links
CIA World Factbook on Montserrat
Montserrat Web Site at http://www.ms/ - nice short URL, isn't it?
The Montserrat Reporter
More Photos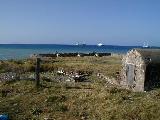 Fortifications at Little Bay (Download 640x480)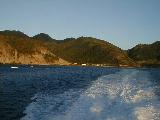 Leaving by ferry (Download 640x480)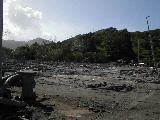 A former golf course, submerged in mud (Download 1280x960)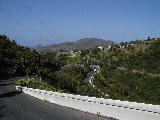 Winding road inlands (Download 1280x960)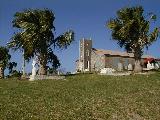 A small church on the West coast (Download 640x480)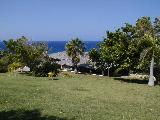 A nice villa on the West coast (Download 640x480)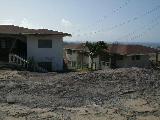 Houses in mud (Plymouth) (Download 640x480)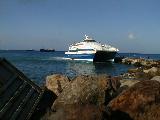 The M.V. Opale Express (Download 640x480)
---
Frederik Ramm, 2001-05-25