---
Nightlife: Clubs and Bars on Antigua
Dancing
If you like discos & dancing, there are only a few places to go (at least for tourists and expats - the locals seem to have some additional spots of their own and I wasn't adventurous enough to try them out). The best thing about the discos on Antigua is that they are virtually smoke free - not because people don't smoke, but because the venues are usually not enclosed by walls and a roof!

The only real disco/club type of place is the "Ribbit Night Club" on the southern shore of St. John's Bay, a five minute drive from the city centre. Loud music, often with a local flavour, late opening (the only place I knew where you could actually go at 2 o'clock in the night and still find it packed). Entry is about EC$20. The crowd was usually very mixed; one of the few places where you could find equal numbers of locals and tourists.

My personal all-time favourite was the "Abracadabra", a restaurant with open-air disco and bar in English Harbour (in the South, about 20 min drive from St. John's). They played many songs I knew from home (or would hear at home after my return), and most of the people there were in some way connected to the boat business - many young folks who worked as crew members and so on, a very international, happy, carefree crowd. No entry fee except on special occasions.

There are a few "howevers": First, they're closed during hurricane season; second, because the bar is practically "on" the dance floor, expect limited room for movement on high season Fridays and Saturdays (but they're open all week); third, don't go there during America's Cup because they are very likely to turn off the music and show those stupid sailing videos on their TV screen :-). Fourth, I hate Will Smith.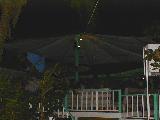 Tent Roof and Video Screen
at Abracadabra (large)

The "Abracadabra" is located at the large car park at the entrance of Nelson's Dockyard; you can't miss it. I never had dinner in the establishment's restaurant but that didn't look too bad either. The bar is not known for mixing good drinks, so better stick to stuff from bottles.

The "Last Lemming", situated within walking distance from the "Abracadabra", has a similar clientele, only a few (ten?) years older on the average. It is in the same building as the Antiqua Yacht Club, and you'll hardly ever find somebody there who doesn't have a sailing-related slogan on his T-Shirt. The Last Lemming is a restaurant and bar, and the food is said to be excellent. I've only had a couple of cocktails and I can recommend them (if you manage to get your order through which can be difficult on week-ends). They usually have live music by locals bands on Fridays.

To get to the "Last Lemming", take the road into English Harbour; about half a mile before you reach Nelson's Dockyard, make a right turn to the Yacht Club Marina, you can't miss it as you'll be going straight into the Yacht Club parking lot.

I have already mentioned Lashings on my beaches page since it is a beach bar. Don't go there for elaborate cocktails, but a beer or a rum and coke will always be available, and they're open all year round, practically around the clock. The music is quite dancable on the weekends unless they have a live band, the crowd is about 1/3 locals and 2/3 tourists and expats, and you'll generally have a good time unless you expect a hifi sound system ;-)... they also serve Mexican style food. The best time of the year to visit Lashings is probably when the competition in the South is closed since many folks will drive up here. (This is also true for Putters, mentioned below.) - Lashings has its own web site.

There's one last thing I should mention here. Disco Dancing, Caribbean style, often involves something that, at least to European eyes, looks rather like a sexual foreplay than something you do in public. Put bluntly, the guy grabs the girl's hips from behind and pulls her close, and both move slowly to the music while her behind ever-so-slightly (or not) rubs his genitals. It takes a while to get used to, and might, due to its lack of subtlety, put some people off; but rest assured that it is quite normal and doesn't necessarily mean that the parties involved will jump into bed with each other afterwards, or even exchange words.
Drinking
Apart from the places already mentioned, there are a number of very nice (and very different) bars.

There's Julian's which I have mentioned in the Restaurants listing already. In the upstairs bar, the cocktails are expertly mixed and very reasonably priced (around EC$ 15 if I remember correctly), and they offer very nice seating inside as well as outside. There's also a pool table. [Unfortuately, as a reader reported, Julian's is closed because the owner moved off the island. So this entry is only of historic interested until, maybe, somebody else takes over.]

For a stark contrast, try Putters on the end of the road that leads East from Dickenson Bay. Outside seating only, cocktail selection limited, but "usual" drinks flow freely (though not free...), and they have an attached mini golf course. They do a little food (french fries, burgers, sometimes barbecue), and they also have a small dance floor and a rather good selection of music, although people only rarely danced. Putters is open every day, all year round.

Not far from Putters and Lashings there's the Casino Riviera which does not only offer opportunites to waste your money gambling, but also a good bar and sometimes live music (jazz style, mostly). They are reported to have decent food as well. Do not go there in shorts - you may get past the doorman but not past the air condition!

Miller's by the Sea offers drinks, seafood and regular live music (Jazz). The complex includes a beach bar, you it's your choice if you want decent seating or sand & sea.

There's also an Irish Pub ("the only one in the whole country"), O'Grady's on Lower Redcliffe Street (upstairs) but to my eternal shame I must admit that I only ever saw it from the outside!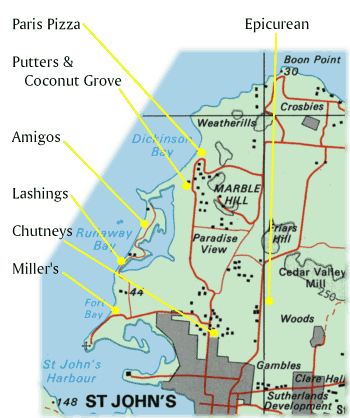 Last Not Least
More about food on my Restaurant page.

Here's a map with some of the places mentioned.

---
Frederik Ramm, 2001-06-27