---
Services, Resources, Navigation
St. John's
The city is not too large and can easily be navigated on foot (but watch out for those little canyons to the left and right of many roads). If you want a good view of the city, just head for the cathedral which is located north-east of the city centre. You'll see High Street, and the main tourist shopping arcade, Redcliffe Quay, near the harbour.



The whole Island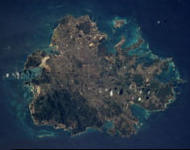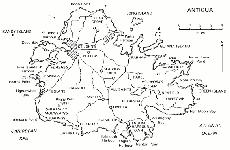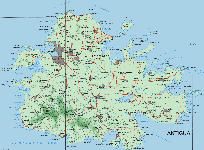 The first photo was taken from the Space Shuttle (not by myself - unfortunately!), and I don't have a larger version. The second image is a drawn map of Antigua, good for illustration purposes; there's a 583x379, 26k version and one in 972x632, 34k. The third one is a high resolution colour map, downloadable as 1183x867, 300k or 2367x1734, 1M.
There's also a very good online map at the Antigua Nice web site.
Things to get
There are two indispensable items for anyone who wants to spend more time on Antigua. First, Brian Dyde's travel guide "Antigua and Barbuda - Heart of the Caribbean" (see publisher's web site) which should be available through British book sources (and, of course, in the Map Shop in St. John's). Second, but even more important, the 1:50,000 scale map of Antigua (which includes 1:10,000 maps of St. John's and English Harbour), published by the Government of the United Kingdom; my 1980 version looked like the one depicted here and carried the marking "Series E703 (D.O.S. 406), Sheet Antigua, Edition 7-D.O.S. 1980". Whatever that means. You can get it at the Map Shop. Note that the 1980 version does not show a road at Corbison Point but there is one connecting the roads from the south and to the east.
Services
This is not going to be as detailed as my shopping page because it changes even faster, but here's a small list of services that might be of use. For a much more comprehensive and up-to-date list, see www.antiguanice.com, the de-facto online yellow pages for Antigua. There's also a number of specialized pages for tourists and sailing folk out there - just ask your favourite search engine.
Internet Access

Cable & Wireless (www.cwantigua.com) almost have the monopoly. They offer dialup and Unix shell accounts; modem dialup is about 6 EC cents per minute plus a basic charge. ISDN is not viable for the private user. There are a few Internet Cafes, one called "Cyber Hut" near the central Post Office and another named SOS ASIS at 50 Church Street (sosasis@hotmail.com).

Hairdresser

Try a place called Vanity off Dickenson Bay Street. Sounds expensive but I (as a short-haired male) paid only about EC$ 30 for a haircut and was happy.

Mobile phones and paging

Operated partly by Cable & Wireless and partly by the local phone company, APUA. The aforementioned Cable & Wireless website allows you to send text messages to pagers. See APUA website.

Aircraft charter

There are some companies that cater to the "executive" market and some that specialize in tourist flights; unfortunately, the company I used to fly with has ceased operations and so I cannot recommend a place where you can charter aircraft for private use. Ask around at the airport, or try Jolly Harbour if you're into helicopters. Expect to pay European, not American, rates.
Further Links
Antigua and Barbuda Tourist Office
(with a listing of tourist offices world-wide)
Antigua Sailing Week
Antigua Today
Antigua and Barbuda High Commission (in London)
Caribbean Highlights
Webcam am Antigua Yacht Club

---
Frederik Ramm, 2001-11-15