---
Sightseeing and Activities
If you're staying at one of the resort-like places, they will undoubtedly offer all sorts of activities and guided tours. Many of them will also accept non-residents into their facilities, for a fee of course. And many taxi operators offer customized tours of the whole island or parts thereof.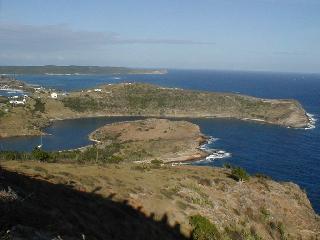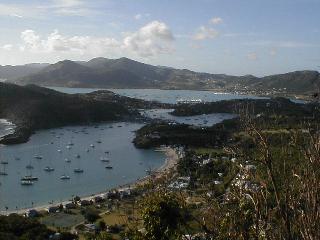 Views from Shirley Heights: Mamora Bay; English Harbour and Falmouth Harbour. Download full size (1280x960) left, right.
Shirley Heights is a hill with a few ruined former English Barracks, situated in an area which is now called "Nelson's Dockyard National Park". As you see, the views from there over the southern parts of Antigua are splendid! And on Sundays, starting in the afternoon, there's usually a Barbecue up there, with steel bands and a lot of tourist stuff to buy.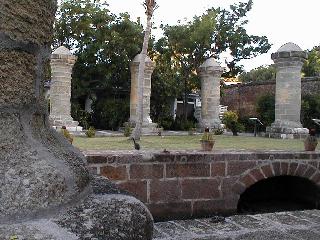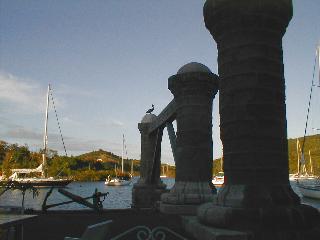 Views from the Admiral's Inn at Nelson's Dockyard. Download full size (1280x960) left, right.
At the end of the road in English Harbour, you'll find Nelson's Dockyard. There are some ancient buildings related to seafaring, plus a fair number of restaurants and pubs. The fact that I can only present photos shot while sitting in the Admiral's Inn (with a pot of tea, as far as I remember) speaks for itself :-) During the season, there will be a lot of live music, and of course there are lots of sailboats in the harbour.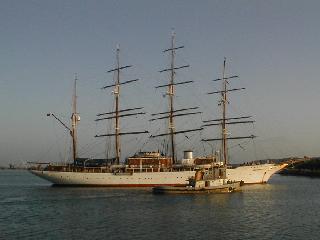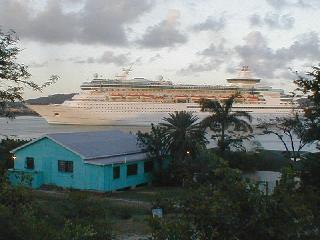 At St. John's: Sailing Ship in the harbour, and Cruise Ship leaving. Download full size (1280x960) left, right.
But you don't have to go South if you're interested in bats and ships - the harbour in St. John's has intersting sights on offer as well. This is where the large cruise ships dock; some of them carry 1,600 tourists and 800 staff! You will also have plenty of opportunity to see some of the more luxurious cruise ships. It seems that the older the technology, the more you have to pay for a trip.
There are many places where you can go sailing or surfing if you want; if they're not completely booked, the Sunail Club Colonna (at Hodges Bay in the North) will admit non-residents. You can buy a half-day leisure pass and use their boats (and instructors); excellent for beginners. More experienced folks will find larger boats for rent in Falmouth/English Harbour, and there's also a place near the Beachcomber Hotel in the Northeast.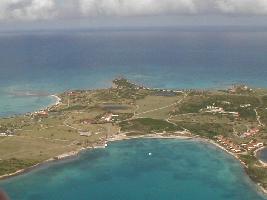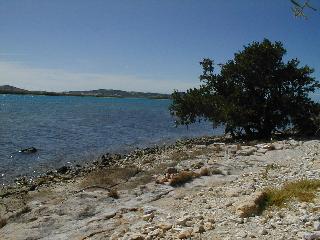 Long Island: From the air, and view to the mainland from there. Download full size (1280x960) left, right.
If you are the kind of person who spends US$ 1.200 for a night at a hotel (or US 1.500 for an apartment), why not stay at the exclusive Jumby Bay Resort. They have an island for themselves: Long Island, just off the North-East coast. But even if you aren't that rich, all is not lost. The island is not off limits to visitors, provided they pass the ferry captain's inspection and behave. The ferry leaves from the pier behind the Beachcomber Hotel, with a frequency of 60 to 90 minutes. Just hop onto the ferry and ask the person in charge if they'll let you in for a visit.
Links
The Museum of Antigua & Barbuda
Nelson's Dockyard Museum
---
Frederik Ramm, 2001-05-12