---

, Monday, November 13th, 1989, p. 1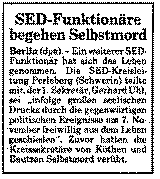 SED officials commit suicide
This is an English summary. The full article is only available in German.
Berlin (dpa) - Another SED official has commited suicide. The SED office in Perleberg (Schwerin) announced that their first secretary, Gerhard Uhl, killed himself. Before that, the secreataries of Köthen and Bautzen had commited suicide.
---
Annotations: SED: The "Socialistic Union Party of Germany", the de facto GDR government.
---
Frederik Ramm, 2001-04-27