---

, Monday, November 13th, 1989, p. 2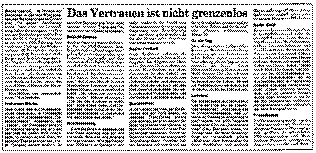 Not everyone trusts new regime
This is an English summary. The full article is only available in German.
90% of the Germans in East and West believe that the border is going to stay open "for ever". But only 14% of the Western and 19% of the Eastern Germans trust the new DDR government. More than 90% support the idea of a new public holiday on the 9th of November.
Here are some stories about the "whole-german" weekend.
Trabant cities
Many cities were full of the Eastern "Trabant" cars. Their two-stroke engines created an unique smell. In Berlin, where it was difficult to get a cab, hitch-hiking became modern again.
Red light scenes
At a fun-fair in Hamburg GDR tourists got free tickets for most attractions. But they were not very welcome at the Reeperbahn, Hamburg's red-ligh district, because they tried not to spend too much money.
Building bridges
At the border crossing at Stapelburg, an old bridge crashed due to the loads of tourists using it. A temporary bridge was built across the river Ecker.
Cycler's freedom
In Berlin, many people were allowed to cycle into the Eastern part of the city. According to the German Bicycle Club ADFC, this should now become the preferred mode of travel there - to keep the air clean.
So ein Tag
The composer, Lothar Olias, cried tears of joy this weekend when his song, "So ein Tag, so wunderschön wie heute" was sung by Germans East and West. He is 75 and now living in Tessin in Switzerland. Talking to a Swiss newspaper, he said that his song was a song of freedom, now as well as 40 years ago when it was composed.
Workforce gone
Some manufacturing businesses in the GDR could not operate all their machines on Friday because so many workers were taking a stroll in West Berlin. The Eastern Berlin newspaper, "Berliner Zeitung", wrote that although one could understand the happiness about the new freedom to travel, everyone should do his duty on the job.
Money in a suitcase
Police in Lübeck were surprised when four employees of the GDR bank arrived with a suitcase filled with 700,000 DM. They wanted to change the money to DM 10 banknotes and DM 5 coins, but they had to wait because the banks in Lübeck didn't have enough cash either.
Friendship
Shortly after the opening of the border crossing at Potsdam Square, members of the GDR border patrol and policemen from the West were seen walking arm in arm.
---
Frederik Ramm, 2001-04-27