---

, Monday, November 13th, 1989, p. 13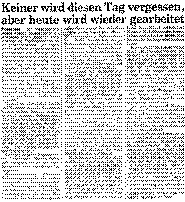 Nobody will forget, but today is a working day
This is an English summary. The full article is only available in German.
Two eighteen-year-old girls are trying to phone home - without success: there are no lines available. They've been travelling on an over-crowded train for eight hours from Eisenach to Frankfurt. At least, the Red Cross is providing hot tea and soup.
Wartburg cars are parked everywhere, and spontaneous discussions start between passengers and tourists. Many are seeing their relatives for the first time in several years.
The visitors are told that the shop opening rules will be relaxed for the weekend to allow for shopping as long as they like, but at that time no-one knew that the department stores wouldn't play: At 2 o'clock pm, they close their doors.
The Red Cross is distributing food to everyone. An emergency watch has been created to take care of all kinds of accidents. Metro, a gastronomy supplier, delivers tins of peas and carrots for about 5.000 meals - on credit.
At the Hauptwache (a central place in Frankfurt), skateboarders put on a show, to the applause of the visitors in no-name trainers and jeans. This day was an unusual day for most of the GDR visitors. They promise to come back - as if it were the most common thing on earth.
---
Frederik Ramm, 2001-04-27