---

, Tuesday, November 14th, 1989, p. 3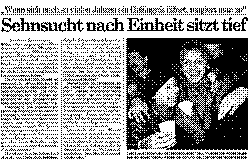 'One reacts like that if a prison opens after so many years'
Yearning for Unification
This is an English summary. The full article is only available in German. By Horst Zimmermann
Udo Undeutsch, professor of psychology at the University of Cologne, has analyzed the "orgiastic joy" after the opening of the border. His results: "We all long for unification more than our politicians and we ourselves had thought until now." He understands the joy among the GDR citizens but is surprised that even the people from Western Germany react in a very emotional way.
"Until now one assumed that the Western Germans didn't have strong national feelings, were cool and materialistic. The border between the two parts of Germany had been accepted. ... Obviuosly this was a wrong assumption."
Originally from Weimar, Undeutsch doesn't want to join the party yet: "Of course I am happy, but I am too sceptic. I want to be sure that all this is not only part of a huge appeasement operation."
Three youngsters from East Berlin celebrate the opening of the border at Wollankstrasse with a mug of coffee.
---
Frederik Ramm, 2001-04-27