---

, Tuesday, November 14th, 1989, p. 11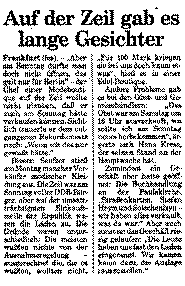 Unhappy faces among 'Zeil' shop owners
This is an English summary. The full article is only available in German.
The owner of a boutique on Frankfurt's main shopping street, the "Zeil", could not believe what he'd heard: "But you weren't allowed to open on Sunday, the exceptions were only valid for Berlin". In fact, he would have been allowed to open his premises, and he's sad about the sales he lost.
He was not alone. Almost all of the boutiques in the heart of Frankfurt stayed shut on Sunday. Most of the owners simply didn't know, and the few who knew often didn't want to open because they were only selling high-price goods.
There were other problems concerning the sale of fruit and vegetables: Most shops were sold out on Saturday afternoon, and it's next to impossible to re-stock on Sunday in Germany.
The bookshop next to the Paulskirche was open, though. "Maps, Stefan Heym, Solshenizyn - we sold everything we had."
---
Frederik Ramm, 2001-06-29