---

, Monday, November 13th, 1989, p. 1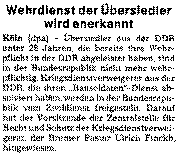 GDR immigrants' military service recognized
This is an English summary. The full article is only available in German.
GDR immigrants younger than 28 who completed their military service in the GDR are not liable to military service in the west. In addition, the chairman of the central office for the rights and protection of conscientious objectors, Ulrich Finckh, said that conscientous objectors who completed their "construction soldier" service in the GDR are exempt from military or civil service in the West, too.
---
Annotations: At the time, both East and West had roughly equal times of military service (between 1 and 1.5 years). Conscientious objectors served a little bit longer; in the East, they worked on construction sites, and in the West there were different, mostly social, jobs to choose from.
---
Frederik Ramm, 2001-04-27